"Titans of Transformation" explains how we are taking India's Make in India initiative to new levels
Harsh Dhingra, Chief Country Representative of Bombardier Transportation India, the 'Make in India' initiative is a great opportunity to improve the country's rail systems
Click Like to Follow Fliegerfaust Facebook page to get the News ASAP / Share to share this post now.
For Harsh Dhingra, Chief Country Representative of Bombardier Transportation India, the 'Make in India' initiative is a great opportunity to improve the country's rail systems. In an interview with BW, Dhingra talks about India's potential, challenges of operating in India and more.
Excerpts:

On India's contribution to overall revenue.
India's contribution is very small at the moment, and therefore it has a big potential to grow.
---
Almost 65 per cent of the company's revenue comes from Europe: Germany, Switzerland and many such countries. Total Asia-Pacific share may be around 6-7 per cent or so excluding China. We are in three business areas in India. There is the metro market, which will continue to grow. Two, the business from Indian Railways and, three, exports from India, like we are doing for Australia. All three areas are working well for us.

On challenges of operating in India.
The only challenge is the anticipation of the future demand. We don't know with 100 per cent surety that the timeline for a particular project will work. Arranging funds for such projects is always a question mark. So, you cannot have clear-cut plans. There is always that risk. If timelines are adhered to for key projects, whether metro or railways, the market will become even more attractive and efficient for all stakeholders.
On exporting 'Made in India' coaches.

We are building and providing metro for Queensland, which is around 450 cars. This is a very good sign. Trains manufactured in India are going abroad indicates that the quality of Indian products is acceptable in the international market, which is a big positive for India. More : http://businessworld.in/article/-Anticipation-Of-F...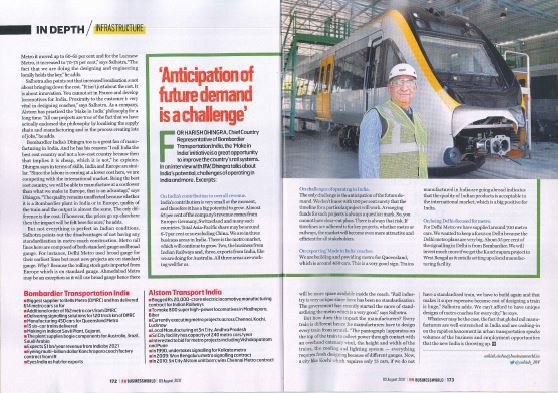 Related Articles Around the Web