Video: Bombardier Talks Said Stalled on Trudeau's Pitch - Nice! Quebec Govt to Do It Alone Please! Move Toronto Factories to Quebec!
The Canadian government is pushing Bombardier Inc.'s founding family to loosen control of the aerospace company and issue $1 billion in new stock, triggering a standstill in talks over a federal aid package according to people familiar with the negotiations. Bloomberg News' Josh Wingrove reports. (Source: Bloomberg)
Click Like to Follow Fliegerfaust Facebook page to get the News ASAP / Share to share this post now.
http://www.bloomberg.com/news/videos/2016-05-17/bo...

Once more... If the federal government prefer to let the Quebec government do it all alone with Bombardier Inc., it would be a normal thing to let Quebec have the advantage of its investment and risk taking. Bombardier should go forward and sell the Toronto/Downsview facilites, real estate , etc. ($) and move both factories of both the Q400 and the Global aircraft back to Quebec. Could take the opportunity to move Q400 to Mexico or China and still have the Global in Quebec! Jobs!!!
Plenty of space at the Mirabel-Montreal airport, two 12000 feet runways, two highways (15 and 50), 15 minutes from Montreal, and more, try to find that elsewhere!
Thanks "Captain Quebec" Justin Trudeau... but, no thanks, tell your Bay $treet Boys we're ok ;-) I think you should start to forget about a selfie of youself with a CSeries... :-)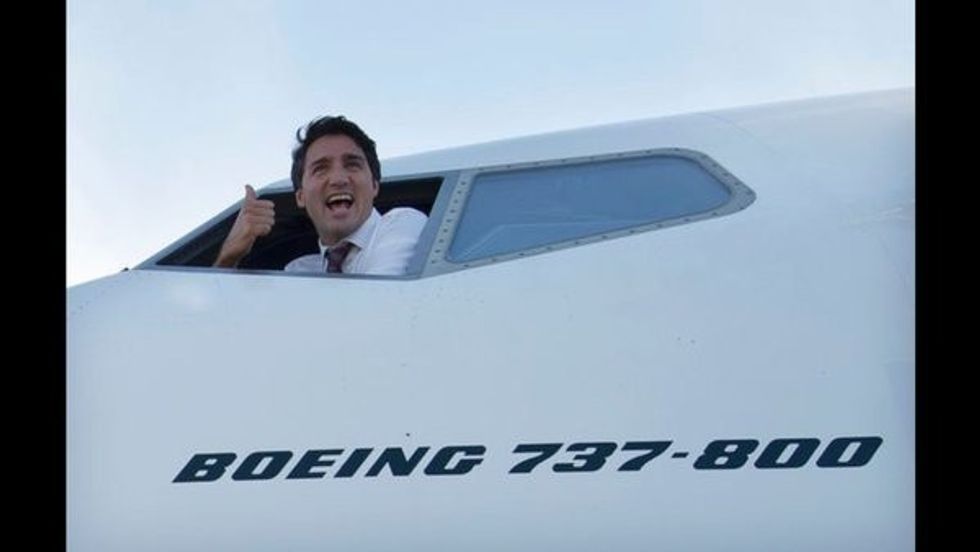 Justin Trudeau Happily Smiling in a Boeing 737-800 (where's the CSeries selfie?)